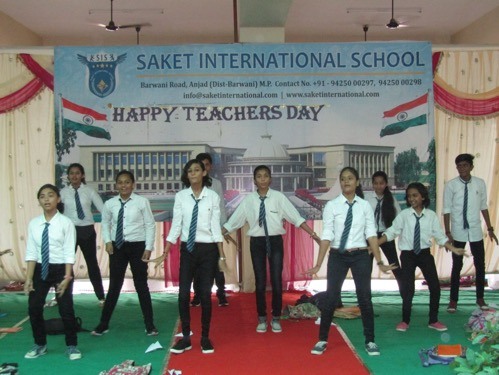 Teacher's Day Celebration
A teacher nourishes the soul of a child for lifetime. Teacher's day was celebrated in Saket International School, Anjad with love, warmth and affection on 5th September 2018. Teacher's day was an extremely proud moment for the facilitators at Saket, the teachers secretly planned a special assembly to convey their gratitude and love for the students.
"A good teacher can inspire hope, ignite the imagination and instill a love of learning."
To commemorate the event students put together a string of delightful performances. The song prepared by them was extremely pleasing and soothing. The role play enactment filled the teachers with joy and pride to see the talent among Saketians.
Students prepared a mesmerizing and remarkable dance drama and paid sincere tribute to all the lovely teachers for transforming their lives. The fun filled day marked the empathy and affection and indebtedness that the students feel for their teachers and everyone was overwhelmed. The day for teachers was gratifying and a day to remember!